WFTV Documentary: Ocoee Massacre 
The Ocoee Massacre: The Truth Laid Bare  (UCF)
The Ocoee Massacre: The Zinn Education Project 
The Hundred Year Remembrance Ceremony Event
The Little-Known Story of America's Deadliest Election Day Massacre: Smithsonian Magazine
When black labor broker Moses Norman showed up to vote in Ocoee, Florida, on November 2, 1920, white poll workers turned him away, unceremoniously informing him that he had failed to pay a $1 poll tax. Undeterred, Norman consulted Orlando Judge John Cheney, who advised him of his rights and encouraged him to try again. Upon returning to vote—a show of defiance that attracted the attention of local members of the Ku Klux Klan—Norman reportedly clashed with a growing crowd of incensed observers.
Fearful of the brewing violence, Norman told his business partner, Julius "July" Perry, that he planned to leave town. (Norman was later recorded living in New York City.) That night, a group of armed white men searching for Norman showed up at Perry's house. A gunfight ensued, and by the end of the evening, the 50-something Perry had been lynched and strung up from a telephone post near Judge Cheney's home.
In total, the mob of around 250 burned 22 homes, 2 churches and a fraternal lodge. The number of black residents killed in the attack remains unknown, with estimates ranging from 3 to 60. Several contemporary observers placed the death toll at between 30 and 35.
One hundred years later, Orlando's Orange County Regional History Center is hosting an exhibition commemorating the victims of what historian Paul Ortiz deems "the single bloodiest day in modern U.S. political history." As Stephan Hudak reports for the Orlando Sentinel, the show—titled "Yesterday, This Was Home: The Ocoee Massacre of 1920"—draws on land records, genealogies and oral histories to tell the long-suppressed stories of Norman, Perry and other Ocoeeans targeted by the white mob.
The culmination of three years of research by the center's chief curator, Pam Schwartz, and her staff, the exhibition reflects the challenges associated with "piecing together a narrative that was quite literally and deliberately torn apart, of illustrating lives that had been forcibly erased from most records," writes Matthew Taub for Atlas Obscura. Accounts of the massacre vary widely, in large part due to the decades-long cover-up that followed the attack.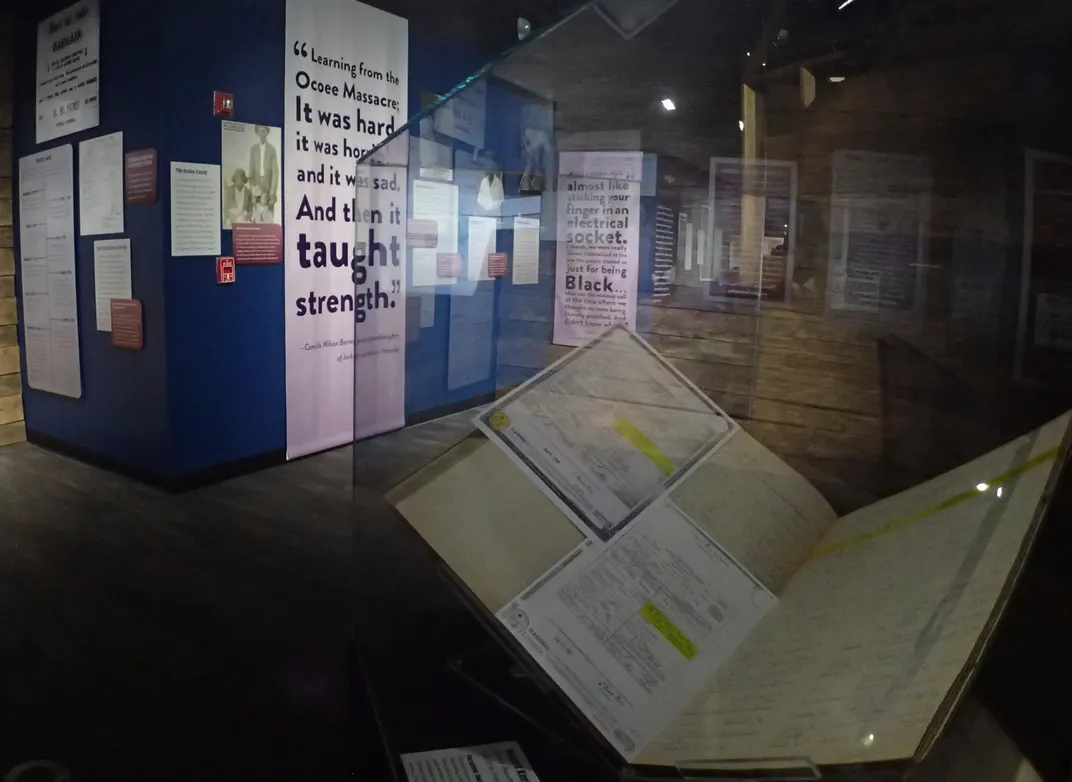 "Yesterday, This Was Home" strives to shift the conversation surrounding the massacre by clarifying the context in which it happened.
Schwartz tells the Washington Post's Gillian Brockell that Ocoee, while not fully integrated, offered black residents more financial opportunities than most other places in the Jim Crow South. In 1920, around one-third of the city's 800 inhabitants were black.
"It was interspersed. It wasn't like, 'Here's a black part of town, here's a white part of town,'" she says. "These people were neighbors for 30 years before the massacre happened."
Both Perry and Norman were labor brokers, or organizers who negotiated with white landowners on behalf of the black workers who staffed their farms, reports Anthony Colarossi for local broadcast station WFTV.
"At the time he had amassed a pretty well-known image there in the city of Ocoee as being someone that everyone knew," says Stephen Nunn, Perry's great-grandson, to WFTV. "And he was not only a friend really to just the black community. He really was a friend to some of the white community as well. But, you know, there's always those that just are not going to be accepting to change, into something different, than control."
Speaking with the Sentinel, Rachel Allen, director of the Peace and Justice Institute at Valencia College, attributes the outburst of violence to white locals' desire to "disrupt and intimidate and frankly terrorize" leading members of the black community.
"Whites called it a riot because their perception was blacks were violent, dangerous, needing to be controlled and they started a riot, of course, none of which the historical records show was true," she adds. "The black perception is it was a massacre, a violent attack on a prospering neighborhood."
On the night of the attack, Schwartz tells the Post, "the options were leave and get shot, or stay and burn."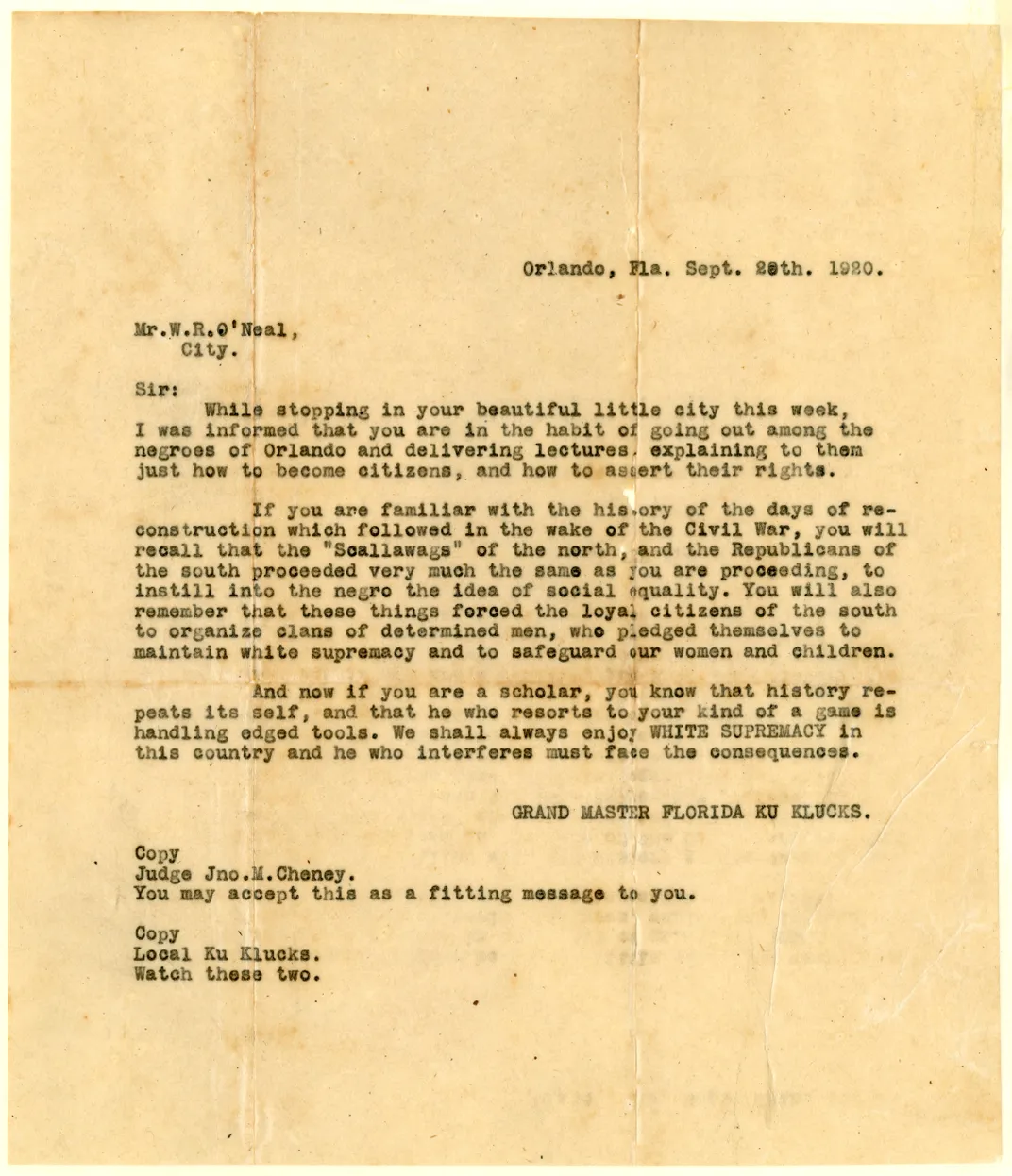 In the immediate aftermath of the Ocoee massacre, white residents openly bragged about their actions. They also "moved quickly to dispose of African American property," selling off fertile farmland without compensating black landowners, according to a 2019 government report.
The Ocoee massacre was just one of numerous assaults that took place during the so-called "Red Summer," a period of racial terror that spanned 1917 to 1923. During this six-year stretch, white mobs terrorized black communities across the South in order to prevent black people from "[asserting] their equality or autonomy," David F. Krugler, author of 1919, The Year of Racial Violence, tells National Geographic's Deneen L. Brown. Attacks perpetuated during this period included the 1921 Tulsa Race Massacre, which resulted in the deaths of some 300 black people; the 1923 Rosewood Massacre; and the 1917 East. St Louis Race War.
By 1930, the number of black residents in Ocoee had plunged from 255 to 2. Black people only started returning to the area in the 1970s, per Atlas Obscura, and even then, many reported facing discrimination and overt threats of violence.
White authorities refused to recognize the massacre for decades; the City of Ocoee, in fact, only issued a proclamation acknowledging the attack in 2018.
"It's white erasure," Schwartz tells the Sentinel. "They just wanted it to go away like it never happened."
Today, reports Monivette Cordeiro in a separate story for the Orlando Sentinel, systemic racism in the Florida city persists, with black residents facing disparities in health care, employment opportunities, housing and other key facets of life. A central avenue in Ocoee bears the name of Confederate Captain Bluford Sims, who seized and sold off Perry's land following his lynching.
"He basically stole people's land after they were brutally murdered," high school student Rain Bellamy, who recently started a petition to rename the road in Perry's honor, tells the Sentinel. "It's a Confederate monument in my eyes."
"Yesterday, This Was Home: The Ocoee Massacre of 1920" is on view at the Orange County Regional History Center in Orlando, Florida, through February 14, 2021.
A White mob unleashed the worst Election Day violence in U.S. history in Florida a century ago: The Washington Post
This is what is certain: 100 years ago, on Nov. 2, 1920 — the same day women voted nationally for the first time — the worst instance of Election Day violence in American history unfolded in a small Florida town west of Orlando.
And the perpetrators got away with what they did for the rest of their lives. There are no roadside markers in Ocoee as you might find in Selma, Ala., no excavation projects to locate the purported mass grave as in Tulsa. Until recently, many descendants of survivors had no idea they were descendants of survivors or that they had been robbed of a valuable inheritance long before they were born.
Now, after years of research, a new exhibit at the Orange County Regional History Center in Orlando has unearthed a crime long buried.
"Most of the people living in Ocoee don't even know that this happened there," said Pamela Schwartz, chief curator of the history center.
Ocoee was founded in the 1850s by a White man who brought 23 enslaved African Americans with him, Schwartz said. After the Civil War, many Confederate veterans resettled there, hiring Black laborers to work their land. Starting in 1888, many of those laborers were able to purchase the very acres over which they had been toiling from their White employers, bringing them wealth and security often denied to Black folks in the Jim Crow South.
Census records indicate that in 1920, about one-third of the town of 800 was Black. Though it isn't accurate to say Ocoee was integrated, there wasn't a Blacks-only neighborhood across the proverbial tracks, as you might find elsewhere in the South.
"It was interspersed. It wasn't like, 'Here's a Black part of town, here's a White part of town,' " Schwartz said. "These people were neighbors for 30 years before the massacre happened."
After World War I ended in 1918, the same trends happening nationally took hold in Ocoee, too. Black veterans returned home expecting better treatment, as they got in Europe, but white-supremacist groups such as the Ku Klux Klan resurfaced to keep that from happening. Racist violence erupted all over the country in what became known as the Red Summer of 1919.
The fight for women's suffrage further fueled those tensions. Many anti-suffragists argued that if women were permitted to vote, Black men might try to vote, too. Some suffragists denied this would happen, and some even argued that White women should be allowed to vote so they could act as a bulwark against any Black men who might try to exercise their rights.
In Ocoee, Black and White Republican leaders held clinics to show Black residents how to register to vote, pay a poll tax and cast a ballot. (The 24th Amendment banned poll taxes in 1962.)
A month before the election, two of the White leaders — attorney W.R. O'Neal and Judge John Cheney — received a threatening letter from the KKK. "We shall always enjoy WHITE SUPREMACY in this country and he who interferes must face the consequences," it read. Across Florida — in Daytona, Jacksonville and Orlando — local KKK chapters held huge rallies to intimidate potential Black voters.
Florida may not spring to mind immediately when one thinks of the Jim Crow South, but in fact there were more lynchings there per capita than in any other state besides Mississippi, according to research by the Equal Justice Initiative. White Floridians used racial terrorism not just to intimidate voters but also to discourage labor organizing in the orange groves and turpentine farms.
'Leave and get shot, or stay and burn'
Despite the threats, a handful of Black residents in Ocoee, both men and women, showed up to the polls on Election Day. In the morning, they cast their ballots without incident, according to two accounts. But in the late afternoon, a Black labor broker named Moses Norman showed up to vote. Election officials told Norman that he hadn't paid his poll tax. He said he had, but he was turned away. Norman sought help from Cheney, the White judge, who advised him to try again. Again, he was turned away.
It is unclear exactly how or why, but that was the spark that lighted a racist inferno that burned Black Ocoee to the ground.
By the evening, a White mob had arrived from Orlando. A rumor spread that Norman was hiding out in the home of July Perry, a Black landowner and community leader in his early 50s who had been involved in the voter registration drive.
His house was surrounded by the mob. At some point, two White men were shot and killed — perhaps by Perry's teenage daughter, perhaps by one another as they fired their weapons at the house. Then it went up in flames. So did a nearby AME church, where Norman and Perry were trustees, and at least two dozen other homes.
"Basically the options were leave and get shot, or stay and burn," Schwartz said.
It may never be known exactly how many Black residents were killed that night. Newspaper accounts said six. Witnesses remembered many more, perhaps 30 or even 60. One person claimed two and a half "wagonloads" of Black bodies were dumped in a trench near a lake.
Research is ongoing, but Schwartz and her team have been able to confirm four. Three were unidentified burned bodies buried by a funeral home, which probably recorded the deaths only to seek compensation for the caskets. The other was July Perry.
Amazingly, the Perrys made it out of the house alive. His wife and daughter were taken to a jail in Tampa. Perry, shot in the leg, was taken to a jail in Orlando. Within hours, a lynch mob pulled Perry from his cell, and he was brutalized and killed. His body was left hanging in front of Cheney's Orlando home.
No one was ever held responsible for any of the deadly violence. Agents for the Bureau of Investigation (later the FBI) showed up a few weeks later, but they made it clear they weren't investigating murder, arson or assault. They were interested only in election fraud.
The leader of the mob later became the mayor of Ocoee.
These days, Robert Hickey is a retired educator in New York. But in the late 1940s and 1950s, he was raised by his grandparents in Apopka, Fla., while his mother worked as a maid up north. Those grandparents, Lucy and John Hickey, didn't like talking about what they had survived decades earlier, but over the years, he pieced it together.
John Hickey had owned a lot of land in and around Ocoee, from which he sold lumber and produced turpentine. He did so well that he would even lend money to White people, Hickey said.
On the night of the massacre, his grandmother "was standing on the front porch of their house and watched all these homes going up in flames," Hickey said. "So as it got closer to them, they fled into the swamps."
The couple hid with the two children they had at the time in a hole left by a pine tree until the next night. Then his grandfather hooked up a wagon and sent his wife and children to stay with friends in a neighboring town without him. As a man, he was more of a target, and he didn't want his family to witness it if he got caught.
"She took the back roads to Apopka, and they were stopped by some White men on horses, but they allowed them to go forward," Hickey said.
His grandfather walked through the forest and swamps and joined them a few days later.
Some people never returned to Ocoee after the massacre. But many did and tried to rebuild, only to be pressured into signing their land over to White people and leaving for good. Hickey's grandfather bought one of his properties in 1911 for $200. A decade later, he "sold" it for $5. He moved with his family to Apopka and started over, eventually purchasing several houses that he rented to laborers in the orange groves.
But what happened in Ocoee stayed with him. "I could tell that something had happened to him that was really bad," Hickey said of his grandfather. "He was very withdrawn."
As part of their research, Schwartz and her team mapped out 44 properties lost by Black residents onto present-day maps, then valued them in today's dollars. They also tracked down as many descendants of survivors as they could. They have held virtual tours of the exhibit for dozens of family members, and they've informed the families how much the stolen land is worth today.
That's how Schwartz and Hickey met. His grandfather's land, she told him, is now worth $750,000.
"I just heard this big sigh on the other end of the phone," Schwartz said.
"A lot of people who were involved in the whole swindle were public officials," Hickey said. "He earned it. He didn't steal it, he didn't take it, but it was stolen from him."
Hickey said he spoke with a lawyer who represented descendants of the 1923 Rosewood massacre. A 1994 law has allowed hundreds of Rosewood descendants to attend Florida colleges tuition-free, one of the first examples of legislation making reparations to African Americans. Hickey wondered whether the law could apply to his family, since his grandparents experienced the same sort of terrorism inflicted on the residents of Rosewood in Ocoee. But the lawyer said no.
The properties that the history center has mapped so far are worth at least $10 million altogether.
Perry's family was cheated out of his land, too. While his wife was still in jail in Tampa, she signed over the executorship of Perry's land to Bluford Sims, a Confederate captain and Perry's former employer. He posted an ad in the paper for "beautiful little groves belonging to the Negroes that have just left Ocoee." After years of litigation, his children received about $100 each for land that sold for thousands.
Ocoee was a Whites-only "sundown" town until the 1970s. But Black folks in the region never forgot what happened there. In the late 1990s, a local activist group, the Democracy Forum, pressed for town halls about the massacre, some of which included descendants of the perpetrators.
"Sometimes the sentiment was, 'It's better to let sleeping dogs lie,' " Schwartz said.
Fifteen years later and 35 miles away, a Black teenager named Trayvon Martin was shot to death in Sanford, Fla., sparking the Black Lives Matter movement.
In 2017, members of the Democracy Forum approached the history center with its archive of the massacre. They also asked for a 100th anniversary commemoration in 2020.
In 2018, the city released a proclamation acknowledging the massacre. A formal apology to descendants is in the works, and the Florida legislature has passed a law requiring that the Ocoee Election Day massacre be taught in Florida schools.
The property where the AME church used to be is now a Mexican restaurant. The main road is named for Bluford Sims, although there's a petition to change it. A newer house stands where Perry's home used to be. When reached by a Washington Post reporter, the homeowner said he "didn't know anything about that" before ending the call.
This past summer, as the history center put the final touches on its exhibit, the nation erupted in protest after the killing of another Black man. One evening, one of the staff members went to a Black Lives Matter protest in Orlando, where she was surprised to see a young man holding up a sign that read: "July Perry. Ocoee, Florida. November 2, 1920."
Jennifer Jenkins and Samantha Schmidt contributed to this report.
Yesterday This Was Home: Tour of the Special Exhibit at ORHC includes Interactive Map 
Special exhibition
The 1920 Ocoee Massacre in Orange County, Florida, remains the largest incident of voting-day violence in United States history.
Events unfolded on Election Day 1920, when Mose Norman, a Black U.S. citizen, attempted to vote in Ocoee and was turned away from the polls. That evening, a mob of armed white men came to the home of his friend, July Perry, in an effort to locate Norman. Shooting ensued. Perry was captured and eventually lynched. An unknown number of African American citizens were murdered, and their homes and community were burned to the ground. Most of the Black population of Ocoee fled, never to return.
This landmark exhibition by the Orange County Regional History Center marked the 100-year remembrance of the Ocoee Massacre. The exhibition explored not only this horrific time in our community's history but also historical and recent incidents of racism, hatred, and terror, some right here at home.
The content encouraged reflection on a century of social transformation, the power of perspective, and the importance of exercising the right to vote, and asked what lessons history can inspire for moving forward.
The History Center is working to build an online version of this exhibition. In the meantime, please explore the resources below, including exhibition-related programming, oral history illustrations, and our digital land deed map.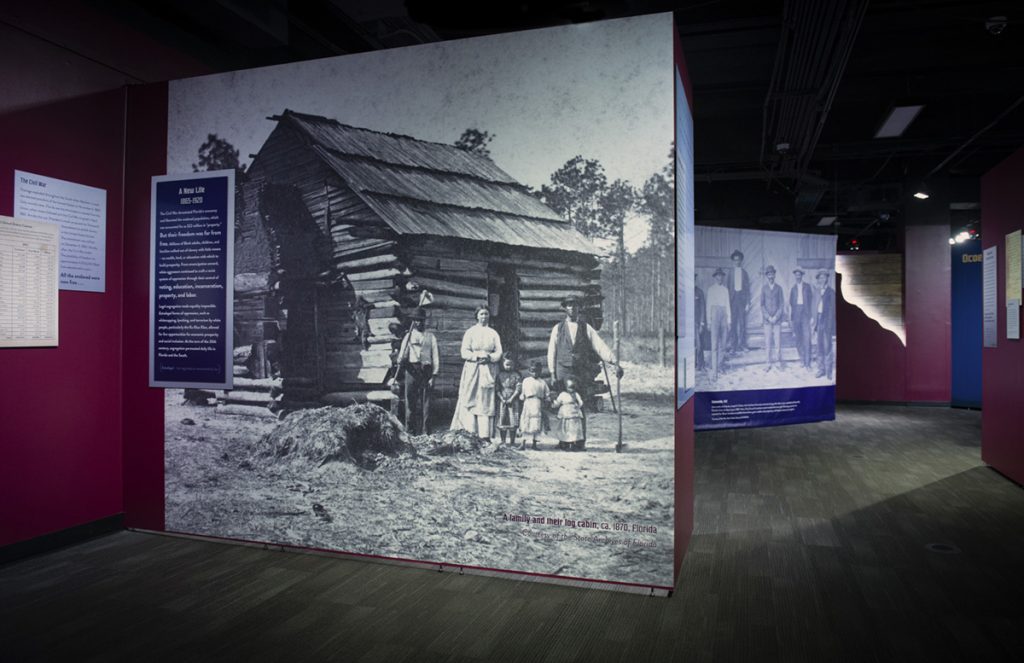 Be a part of creating access to this story!
The History Center wants to make this story known and available to everyone, especially Florida's educators, even after our physical exhibition has closed. An intriguing, digital storytelling website would allow us to share our unparalleled research collection, which includes dozens of oral histories with survivors and decedents of the massacre, artifacts and images, and hundreds of primary sources. This includes our interactive land deed map below!
1920 Ocoee Land Ownership Map
Due to increasing interest, the History Center has made our interactive land deed map available outside of the exhibition so that all may learn about this deeply important aspect of this story.
Exhibition programming
Coffee with a Curator
Sunday, October 4, 2020 (view recording)
Saturday, January 9, 2021
Celebrating Black Culture: Music, Storytelling, and Poetry (view recording)
Evolution of Music
Thursday, October 15, 2020
The Legacy of Ocoee: A Panel Discussion (view recording)
Thursday, October 29, 2020

Lunch & Learn: Crafting the Ocoee Exhibition (view recording)
Friday, November 6, 2020
The Destruction of Rosewood (view recording)
Sunday, November 15, 2020
Family Days: Growing a Better Tomorrow
Saturday, November 21, 2020
Saturday, February 6, 2021
Celebrating Black Culture: Music, Storytelling, and Poetry
Storytelling & Poetry (view recording) 
Thursday, February 11, 2021
Programming supported by